Summary
Touhou Project (東方 Project) is a franchise consisting of several 2D scrolling shooting games and 2D fighters created by Team Shanghai Alice headed by a man named ZUN. It follows the various misadventures of Reimu and Marisa, a shrine maiden and a magician in the magical land of Gensokyo that's inhabited by all manner of spirits, demons, and aliens. Each game focuses on an incident causing trouble for the denizens of Gensokyo, and the incident resolvers naturally resolving these.
Additionally, the Game Uwabami Breakers also takes place in the Touhouverse, albeit in the Outside World, the verse's version of the real world.
For more information about the ratings, consult this blog, and the Touhou Wiki.
The characters are remarkably powerful, with several possessing hax such as Space-Time Manipulation, Eternity Manipulation, and Boundary Manipulation, with the majority of Windows era characters in the Tier 6 to Tier 4 range and possessing speeds that exceed light itself, and PC-98 characters exceeding that scale on a Multi-Solar System to Galactic level, and Amitabha, who is 6x10125 yojana tall, dwarfing the observable universe to a far greater degree than humans dwarfing quantum strings.
The series consists of 21 games, some characters also make a cameo in another bullet hell game called Seihou. The complicated part is that there is a discontinuity between games 1-5 (The PC-98 era) and the rest of the games (The Windows Era). Although ZUN has stated that the 6th game was clean from the previous games and that the PC-98 Game should be ignored, he has also stated that the setting of the PC-98 games still lives to this day and just do not get to be shown, which results in some confusion over the actual canonicity of the PC-98 games.
In addition to the games, there are 5 official fanbooks, a number of short stories from Music CDs, two side-story books and 7 official mangas penned by ZUN with art from various artists. All together that makes the official canon of the series.
Supporters:
Neutral:
Opponents:
Characters
Touhou PC-98:
Ruukoto
Embodiment of the Scarlet Devil:
Perfect Cherry Blossom:
Imperishable Night:
Phantasmagoria of Flower View:
Mountain of Faith: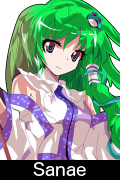 Subterranean Animism:
Undefined Fantastic Object:
Double Spoiler:
Ten Desires:
Double Dealing Character:
Legacy of Lunatic Kingdom: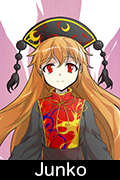 Hidden Star in Four Seasons:
Fighting Games:
Print Works:
Others:
Seihou:
Equipment: