Summary
The Ultra Series is a Tokusatsu Franchise. It originally started with Ultra-Q (kind of like a Japanese version of Tales from the Crypt) but later, after Ultraman (TV series), it became a Super Hero/Dai Kaiju franchise, similar to Godzilla and Kamen Rider. It has spawned countless movies, OVAs, toys, comics, manga, games, tv shows, etc.
Power of this Verse
This verse is very powerful as it has several broken abilities, some characters who are planet busters, and hypersonic+ speed feats.
Character Profiles
Ultramen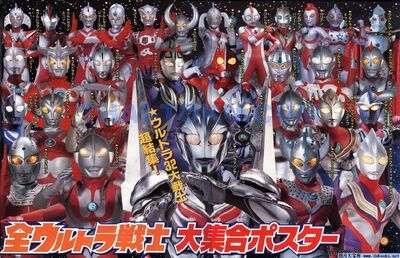 Ultraman 80
Ultraman Ace
Ultraman Belial
Ultraman Cosmos
Ultraman Dyna
Ultraman Gaia
Ultraman Leo
Ultraman Max
Ultraman Mebius
Ultraman Nexus
Ultraman Orb
Ultraman Taro
Ultraman Tiga
Ultraman X
Ultraman Zoffy
Ultraseven
Kaijuu
Seijin
Ad blocker interference detected!
Wikia is a free-to-use site that makes money from advertising. We have a modified experience for viewers using ad blockers

Wikia is not accessible if you've made further modifications. Remove the custom ad blocker rule(s) and the page will load as expected.