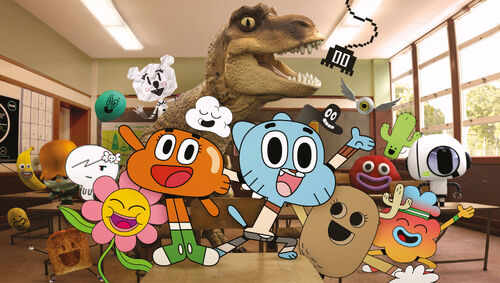 Summary
The Amazing World Gumball is a TV series made by Cartoon Network. It's about a blue cat named Gumball Watterson as he is accompanied by a two-legged fish named Darwin to live off everyday live in Elmore.
Supporters and Opponents of the Series
Supporters:
BruceTheBatman
OishiLover75
WeeklyBattles
God-King Superman 777
TheLuffyPlayer
Sir Ovens
Der Purple Ist Dank
Superalvi100
Neutral:
Opponents:
Power of the verse
Despite its "realistic" setting, the verse is stronger than people might think it is. Some characters like Hector are able to destroy towns and Richard Watterson -- the stereotypical idiot father -- can destroy the universe if he gets a job.
A "plot device" plays a big role in this verse as it causes Reality Warping to shape the world in a way that the characters may act differently even from knowing "past" events, and can even change the setting to make things seem out of place.
Calculations
Character Profiles
-Rob
-Ocho
Weapons