For detailed information about this series, visit the Sword Art Online Wiki.
Summary
The year is 2022, and gamers have lined up on launch day for Sword Art Online, a hotly-anticipated MMORPG that lets players connect to an immersive virtual reality world with special helmets called Nerve Gear. Kirito is one such gamer who's eager to jump back into action, having spent a great deal of time as a beta tester, and quickly becomes friends with newbie warrior Klein. But soon, Sword Art Online's 10,000 players discover that not only are they unable to log out, the only way they can return to their physical bodies is by beating the 100-level tower's final boss - death in the game means death in the real world. Now, with no one else to turn to, Kirito and the other participants must survive the game as best they can.
Power of the Verse
Sword Art Online is currently a verse that is Hypersonic and building level range. However, unofficial translations of the later arcs boost the series by a large margin. Sword Art Online is a verse of humans with virtual avatars that are well into the Building level and Hypersonic range. There are key differences between each avatar a user has. Old Aincrad has the top players well into Large Building level and it is where the strongest fighters are at their peak.
Alfheim and New Aincrad show avatars roughly on the same level as Old Aincrad, but with the addition of flight and magic. Gun Gale has guns, both plasma-based and guns found in real life. And finally, the Underworld, which is roughly below Old Aincrad's in physical strength but features hilariously more powerful abilities with the introduction of Release Recollection.
Supporters/Opponents/Neutral
Supporters
TheBlueDash
SomebodyData
Lance Tennant
SuperKamiNappa
Timefreezer4
Gemmysaur
ExerciseDancefloors
SaiyanSage
CoreOfimBalance(COB)
Opponents
SoyHop
LordAizenSama
GTgokussj4
Darkanine
Faisal Shourov
CrossverseCrisis
KuuIchigo
Fedora Lord Para 348
AkuAkuAkuma
ArbitraryNumbers
SheevShezarrine
ZeedMillenniummon89
Neutral
VersusJunkie54
Xmark12
Characters
SWORD ART ONLINE
SAO NPCs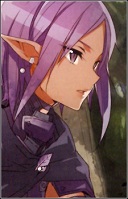 ALFHEIM ONLINE
GUN GALE ONLINE
ORDINAL SCALE