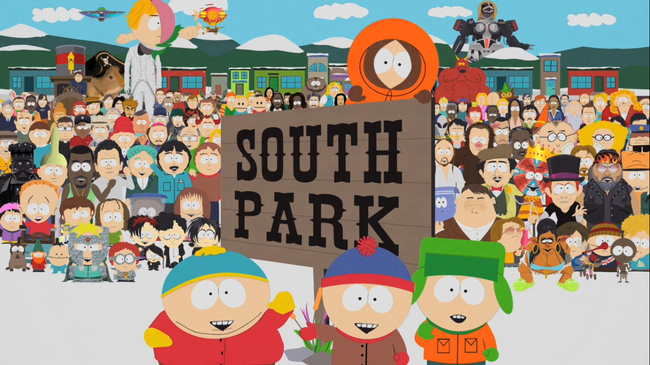 For detailed information about the series, see: South Park Archives.
About
South Park is a popular long-running adult American cartoon series created by Trey Parker and Matt Stone, famous for its crude humour and coarse language. First airing in 1997, it has 20 seasons. Set in Colorado, it focuses on four boys and the other members of the township.
Power
Surprisingly powerful. The series has a pantheon of biblical and mythological figures whose feats range from roughly City level to all the way to Universe level+. Other than the deities, the series has monsters and weapons that can range from Wall level to Building level or much higher. Other then that, the main cast of four boys are rather inconsistent in power, but have defeated Small Building sized monsters in South Park: The Stick of Truth.
Supporters and Opponents
Supporters
Darkanine
ZacharyGrossman273
OishiLover75
Paleomario66
Antvasima
SuperKamiNappa
ZeedMillenniummon89
Neutral
Matthewpowel
Opponents
Characters
Token Black
Tweek Tweak
Craig Tucker
Scott Malkinson
Clyde Donovan
God
Satan
Mecha Streisand
Dawson's Creek Trapper Keeper Ultra Keeper Futura S 2000
Manbearbig
Cthulhu
Crab People
Canadian Minister of Mobile Gaming/Beelzeboot
Woodland Critters