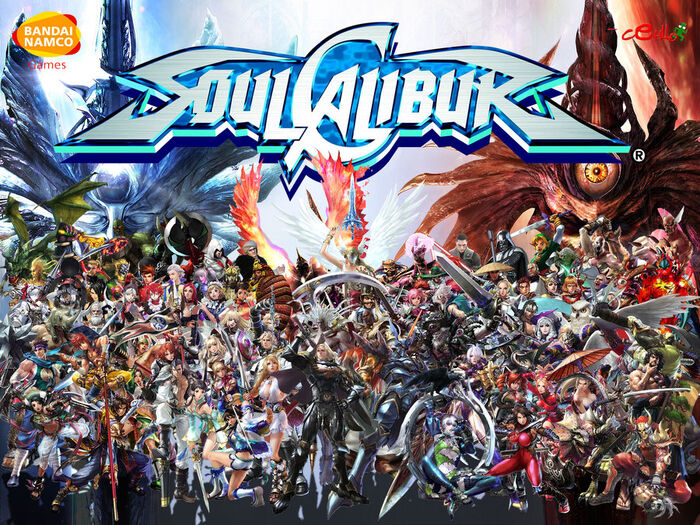 Summary
Soulcalibur is a series of popular fighting games by Namco Bandai. It revolves around the story of two opposing swords, though it also focuses on characters with little connection to the story.
Power of the verse
The series' God Tiers are Planet level due to Algol's power of Astral Chaos and his ability to create entire worlds. However, the characters are only Superhuman to Subsonic with Supersonic+ reactions and combat speed. The verse however, has a great variety of hax such as Reality Warping, Soul Manipulation, Time Manipulation, Dimensional BFR, Low-Godly Regen, Immortality, Sealing, Gravity Manipulation, etc.
Supporters and Opponents of the Series
Supporters:
SheevShezarrine
AlfredOath
Hellbeast1
Opponents:
Neutral:
Characters
Soul Edge:
Seong Han-myeong
Hwang
Li Long
Rock
Sophitia
Soul Calibur:
Aeon Calcos (Lizardman)
Amy
Kilik
Maxi
Xianghua
Yoshimitsu
Soul Calibur 2:
Cassandra
Charade
Necrid
Yun-seong
Soul Calibur 3:
Olcadan
Setsuka
Tira
Soul Calibur 4:
Hilde
Soul Calibur 5:
Alpha Patroklos
Dampierre
Leixia
Patroklos
Pyrrha
Pyrrha Ω
Viola
Xiba
Z.W.E.I.
Soul Calibur 6:
Grøh
Others:
Angol Fear
Ashlotte
Graf Dumas
Greed
Iska Farkas
Johan Durer
Kamikirimusi
Miser
Olcadan
Revenant
Scheherazade
Shura
Strife Astlar
Gallery