| | | |
| --- | --- | --- |
| " | It's like, even though we're human, we can just spend time here in Hueco Mundo like it's normal now. Helping out all the Arrancar people, doing our best to help the Shinigami protect their home...it's just kind of nice, don't you think? I kind of wish things could stay like this forever. All of us together, helping each other out, trying to do what's best for everyone's worlds...and one day we look back and realize the start of the war just never came... | " |
| | ~ Orihime to Chad | |
Summary
Orihime Inoue (井上 織姫, Inoue Orihime) is a Human living in Karakura Town. She is a student at Karakura High School, where she is in the same class as Ichigo Kurosaki and her best friend, Tatsuki Arisawa.
Powers and Stats
Tier: 7-C
Name: Orihime Inoue
Origin: Bleach
Gender: Female
Age: 15 (Pre-Timeskip) | 17 (Post-Timeskip) | 27 (Epilogue)
Classification: Human
Powers and Abilities: Superhuman Physical Characteristics, Spiritual Awareness, Causality Manipulation, Expert Martial Artist (black belt level), Healing, Barrier Creation
Attack Potency: Town level+ (Trained with Rukia, trained during the 17 months timeskip and also trained with Chad, was able to hurt Ginjo)
Speed: Hypersonic+ (Fast enough to put up her shield up before Mayuri's bombs hurt her and Uryū)
Lifting Strength: Athletic human
Striking Strength: Human Class
Durability: Town level+, Mountain level+ with Santen Kesshun (Strong enough to block attacks from Yammy, Ulquiorra, Ginjo and a Completed Fullbring Ichigo)
Stamina: High
Range: Standard melee range, extended range with Shun Shun Rikka techniques
Standard Equipment: Her hairpins
Intelligence: High, was able to find Ichigo at the Visored's base despite it being shielded by a barrier and was able to deduce the barrier's abilities and how powerful it was
Weaknesses: Orihime's determination directly influences the effectiveness of her powers. Feelings like doubt or worry make them weaker, while conviction makes them stronger. Orihime loses her attacking ability if Tsubaki is killed, she has a gentle nature which causes her to do things like develop pity for Ulquiorra and heal Loly and Menoly after they tried to kill her. Despite being intelligent, she has a somewhat childlike personality, often making very impractical decisions such as going to Hueco Mundo, running after Hiyori even though Hiyori had been about to kill her before Shinji intervened, and healing her enemies.
Notable Attacks/Techniques:
Natural Abilities
Spiritual Awareness: Orihime has a good amount of skill in detecting spiritual energy. She can sense Hollows and ongoing battles at a significant distance. If she concentrates, she can even sense Reiatsu of people within protective barriers.
Spiritual Power: Orihime is able to get close to several battles between powerful opponents without being overwhelmed, such as the battles between Ulquiorra and Grimmjow, as well as Ichigo and Ulquiorra. During her basic training in Kidō with Kūkaku Shiba, Orihime demonstrated a natural talent for precise spiritual energy control, as she quickly mastered the technique.
Memory Chikan Resistance: Orihime was able to recall the event of her brother fighting Ichigo Kurosaki, even though the memory chikan has been used on her by Rukia.
Shun Shun Rikka
Shun Shun Rikka (盾舜六花, Six Flowers of the Hibiscus Shield; Viz: Six Princess Shielding Flowers): Orihime's spirit energy is harbored in the pair of six-petal flower-shaped hairpins that her brother gave her. Shun Shun Rikka is composed of six spirits that reside within the hairpins, each of which is two petals on the clip when inactive. Only spiritually aware beings can see them. They reside in her hair-clips, which are shaped like six-petaled flowers. Through various combinations of the six fairies, Orihime has the power to reject phenomena by denying or undoing events in various forms. This power can be used for attack, defense, or healing (depending on the combination).
The Visored Hachigen Ushōda comments that her hair pins, being the physical manifestation of her powers, is very much like the Zanpakutō of a Shinigami, and that her powers resemble his own powers. Sōsuke Aizen, in his explanation of the Hōgyoku, states that Orihime's powers were actually awakened by the Hōgyoku; when she cursed her powerlessness with all her heart, the Hōgyoku answered her desire.
Orihime's techniques involve incantations and manipulating the Shun Shun Rikka into different groups. Though Orihime initially needed to recite their kotodama to use her techniques, further training has rendered this unnecessary. Her kotodama consists of voicing the names of the members involved, followed by the technique name and the phrase "I reject" (私は拒絶する, watashi wa kyozetsu suru), a reference to the nature of her powers.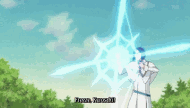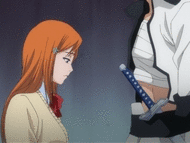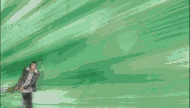 Gallery
Others
Notable Victories:
Notable Losses:
Inconclusive Matches: