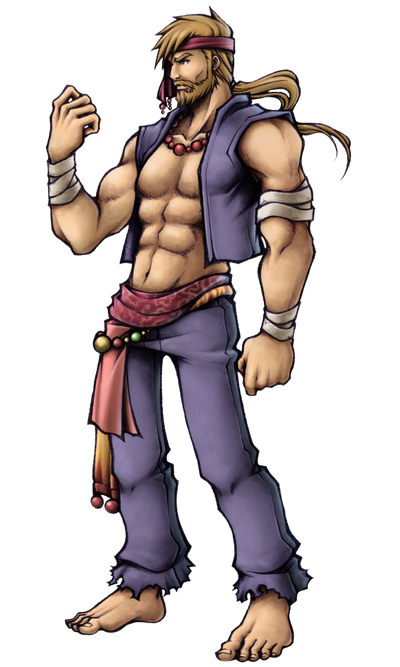 Summary
The Monk (モンク, Monku?), also known as Black Belt, is a skilled martial artist who prefers his fists over weapons and magic in the original Final Fantasy. This is the only class in the game that never gets to use magic; this, coupled with his general lack of equipment, make him the least expensive class in the game (though his defense is thus relatively low as a result). Yet another powerful melee damage dealer, the Monk is a peculiar character in that he deals much more damage unarmed than he would with weapons. Even then, he can only wield nunchaku and a few staves. He is also the only class who is never able to learn magic. His damage-dealing capabilities are increased even further when he receives his promotion to Master. He is a member of the Warriors of Light and helps to restore the power of the Crystals. He had a blue headband and clothing but the head band changed from white to red and then back to blue, and the hair has changed from long hair to shorter hair. Other than that, he has barely changed looks.
The Monk gets damage bonuses for fighting barehanded. He also gets a defense bonus based on Stamina. Barehanded damage easily gets better than claws, and with enough stamina, equipment (except for status/elemental protection) is also unneeded. Like the Thief, the Monk is another "investment" character, though his investment comes from grinding rather than class change; he starts the game weak, but his potential shows in that he can eventually catch up to the Warrior in a fight. At high enough levels, the Monk (and the Master) will even have the highest damage output in the game. If you have a black Mage and cast Temper and Haste on the Monk, his damage per hit can go well over 9000 per hit for sixteen hits in one turn.
After completing the Citadel of Trials, Bahamut the Dragon King upgrades him to the rank of Master (スーパーモンク, Sūpāmonku). Originally, the Master was decidedly the only downgrade in the game as his Magic Defense went from 4 to 1 per level up, but was otherwise similar (equipping a Ribbon does ignore this, though bothering to max a Black Belt to Level 50 almost makes this moot). In Dawn of Souls and up, the stat growth formula for promoted classes was altered, so the Master instead gains higher multiplier for his bonuses and gets more Magic Defense (2 instead of 1) at level up than the Monk.
Powers and Stats
Tier: 5-A
Name: The Monk of Light
Origin: Final Fantasy I
Gender: Male
Age: Unknown
Classification: Human/Hero of Prophecy/The Warrior of Light, Black Belt/Monk/Master
Powers and Abilities: Superhuman Physical Characteristics, Master Martial Artist, can breath underwater (via Oxyale), potentially Magic (via magic-casting items)
Attack Potency: Large Planet level (Fought and defeated Base Gilgamesh in the Lifespring Grotto)
Speed: Sub-Relativistic (Fought and defeated Base Gilgamesh in the Lifespring Grotto)
Lifting Strength: Superhuman+ (Physically the strongest class)
Striking Strength: Large Planet Class (Physically the strongest class)
Durability: Large Planet level (Comparable to Base Gilgamesh)
Stamina: Superhuman+
Range: Extended melee range with weapons, much higher with magic
Standard Equipment: Nunchaku or Claws (but his blows are far more effective without weapons), Armor, Armlet, Crystal, Oxyale
Intelligence: Skilled martial artist and combatant, bested Garland in mortal combat, previously Cornelia's greatest Knight (of which was implied to be worth the entirety of Cornelia's remaining military might alone due to the Kingdom's failure to rescue Princess Sara themselves), fairly competent at problem solving with little information available
Weaknesses: The only class that never learns magic. Lower magical resistance than the other Warriors.
Note: This profile assumes the Monk of Light is the Master class from the original game.
Other:
Notable Victories:
Notable Losses:
Inconclusive Matches: