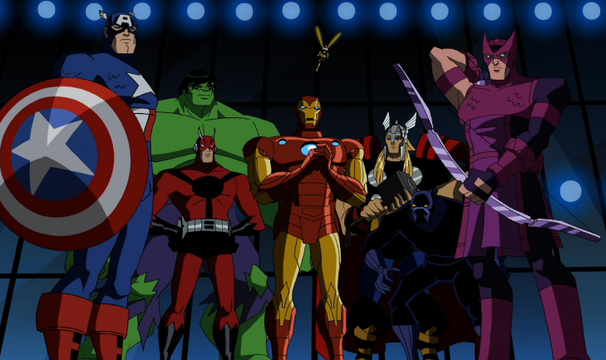 About
The animated adaptions based off Marvel Comics. It features adaptions of certain comics and original animated series.
Note that the term animated universe here is somewhat of a misnomer, as unlike their DC counterpart, Marvel has no shared animated universe.
Power
Like the DCAU, it's not as strong as it's comic counterpart, but powerful in it's own right. Characters featured include Galactus, Surtur, Eternity and even the Beyonder.
Suporters
SpiralMaster
SoyHop
Eldritch abomination
SaiyanSage
Meosos
Earth's Mightiest Heroes!
Black Panther (EMH)
Iron man(EMH)
Hulk(EMH)
Hawkeye(EMH)
Ms Marvel(EMH)
Red Hulk(EMH)
Spider-man(EMH)
Luke Cage(EMH)
Iron Fist(EMH)
Doctor Doom(EMH)
Kang(EMH)
Spiderman - The Animated Series
Spider-Man
Kingpin
Doctor Octopus
Venom
Doctor Strange
Big Hero Six
Hiro Hamada
GoGo
Wasabi
Honey Lemon
Fred
Yokai
Silver Surfer
Silver Surfer (animated series)
Galactus (animated series)
Thanos (animated series)
Disney XD (Marvel universe)
Spiderman (Disney XD)
Hulk (Disney XD)
Thanos (Disney XD)