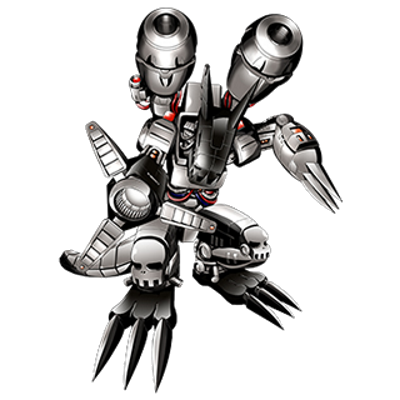 | | | |
| --- | --- | --- |
| " | Oh, good, just what I was looking for: victims! | " |
| | ~ Machinedramon | |
Summary
Machinedramon (known as Mugendramon in the Japanese version) is a Machine Digimon. His whole body in 100% full metal, Machinedramon is an artificial Digimon built from the parts of various Cyborg Digimon who are assumed to been prototypes for his completion. Machinedramon's power is at a level that would overwhelm other Digimon with intellect which boasts incomparable throughput despite acting his on whim of his DigiCore, the source of his power, which is filled with evil intentions. Machinedramon is one of the four Dark Masters who ruled the Digital City on his quarter of Spiral Mountain. After the DigiDestined split up, Taichi's group ended up in Machinedramon's city and managed to defeat him with help from Andromon and the Numemon. In videogame sidestories, Machinedramon's remains are hinted to have combined with those of Chimeramon to become Millenniummon who played a role in Ken Ichijoji's transformation into the Digimon Emperor.
Powers and Stats
Tier: At least 3-C
Name: Machinedramon (Mugendramon in Japanese)
Origin: Digimon Adventure
Gender: Male
Age: Unknown
Classification: Ultimate/Mega level, Machine/Cyborg Digimon
Powers and Abilities: Superhuman Physical Characteristics, Electricity Manipulation, Atmospheric Energy Manipulation, Reality Warping, Fire Manipulation, Water Manipulation, Statistics Amplification, Time Manipulation (Time Stop, Slow, Acceleration and Erasure), Resistance to Time Manipulation, Sleep Manipulation, Fire Manipulation, Soul Manipulation and Paralysis, Pocket Reality Manipulation, Spatial Manipulation, Teleportation, Holy Manipulation, Poison Manipulation, Earth Manipulation, Plasma Manipulation, Soul Manipulation, Mind Manipulation (Digimon attacks are able to interact with each others' Digicores, which constitute a Digimon's mind and soul. Hence, all Digimon are able to manipulate, attack, and destroy the minds and souls of others), Plant Manipulation, Immunity to Conventional Mind Manipulation, Sealing (Could seal one of the 4 Holy Beasts in a short period of time), Matter Manipulation, Sleep Manipulation, Healing, Absolute Zero, Time Travel, Self Information Manipulation and Reactive Evolution via Overwrite, Limited Conceptual Manipulation (With Apocalymon's power, destroyed the concept of evolution).
Attack Potency: At least Galaxy level (Superior to MetalEtemon. Far stronger than Andromon and other Ultimate-level Digimon), can affect the land and technology with elemental manipulation on a planetary scale.
Speed: Relativistic+ movement speed, with FTL reactions (Was able to tag WarGreymon with a blow deadly enough to de-volve him)
Lifting Strength: At least Class M+ (Able to easily overpower Andromon while walking through several hundred tons of bedrock and concrete, should be at least comparable to WarGreymon in strength)
Striking Strength: At least Galactic Class
Durability: At least Galaxy level (Ultimate level Digimon are unable to scratch him, emerged from a multi-city block busting explosion unscathed, should be no less durable than Metalgarurumon)
Stamina: Limitless power generated by its unique digi-core and being 99% mechanical with little organic parts.
Range: Several hundred meters
Standard Equipment: Nothing notable
Intelligence: Is the second biggest of the Dark Masters, knows nearly everything about the Digiworld and the Digimon which live in it.
Weaknesses: None notable
Notable Attacks/Techniques:
Overwrite: All Digimon can rewrite their data so that they are able to react to various situations that were once problematic for it. This usually causes a gigantic increase in power and sometimes new skills and resistances are gained. However, the more emotional the Digimon is, the more violent the overwrite becomes.
Giga Cannon (∞ Cannon): Fires superdreadnought-class energy waves from his two cannons.
Dragon Fire (Booster Claw): Drills his right arm into the opponent.
Catastrophe Day (Catastrophe D): Activates his self-destruct to create a large explosion.
∞ Hand: Launches a blast of energy from his hand.
Notable Inherited Skills
Chrono Breaker:: Wears away its foe's bodies by stopping time. This has shown to work on 6-Dimensional Immeasurable beings.
Idle Bubble: Launches a bubble that puts the foe to sleep immediately.
Ice Arrow: Spews absolute zero breath from its mouth, instantly freezing water that it fires at the opponent.
Water Breath: An attack where after turning backwards, Seadramon sprays a breath of water out of its mouth.
Chilblains: Uses its body to hit the water, creating a wall of ice.
Cold Breath: Blows an icy breath from its mouth, freezing the opponent.
Mirror Reflection: Takes a stance that counters ranged attacks.
Dengeki Biririn: Discharges an electric current emitted from its body that is over a million volts, striking the opponent.
Beta Slugger: Removes the sharp fin from its back and shoots it like a boomerang.
Cutter Fin: Somersaults through the air while slicing at the foe.
Water Tower: Causes a geyser of water to erupt from underneath the foe.
Ice Archery: Shoots an ice sickle at the opponent.
Anti-Paralysis: Removes Paralysis and heals his injuries.
Others
Notable Victories:
Notable Losses:
Inconclusive Matches: