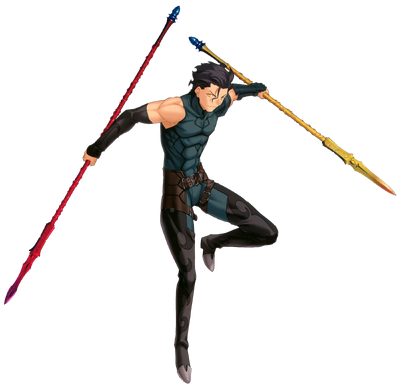 | | | |
| --- | --- | --- |
| " | While there is no honor in a battle fought without an exchange of names, allow me to offer my regards. It is impressive for a woman to fight this much without breaking a sweat. | " |
| | ~ Lancer complementing Saber | |
Summary
Lancer (ランサー, Ransā) is the Lancer-class Servant of Kayneth El-Melloi Archibald in the Fourth Holy Grail War of Fate/Zero. He is a chivalrous servant who wishes to do his best to serve his Master and obtain victory within the war for the Grail. He shares a bond of mutual respect with rival Servant Saber, wishing to face her in an honorable duel to the death.
Lancer's True Name is Diarmuid Ua Duibhne (ディルムッド・オディナ, Dirumuddo Odina), the son of Donn, foster son of Aengus Óg, and first warrior of the knights of Fianna. He is known as Diarmuid of the Love Spot, due to a magical love spot granted to him by a young girl. Any woman who gazes upon the spot instantly fell in love with him, which eventually lead to an encounter with Grainne, the bride of Fionn mac Cumhaill.
Powers and Stats
Tier: At least 7-B with physical strikes
Name: Lancer, Diarmuid Ua Duibhne
Origin: Fate/Zero
Gender: Male
Age: Unknown
Classification: Heroic Spirit, Lancer-Class Servant
Powers and Abilities: Superhuman Physical Characteristics, Magic Resistance and Immunity to Conventional Weapons, Limited Mind Manipulation, Limited Precognition, His weapons can negate Regeneration and Magic, Can enter Spirit Form, Master Spearman, Soul Manipulation (all Servants can consume souls to replenish their mana)
Attack Potency: At least City level with physical strikes (Has B-rank strength and managed to trade blows with Saber)
Speed: Hypersonic+ with High Hypersonic reactions (Fought evenly with a full-powered Saber and even countered her charge, has the highest quantifiable rank of Agility possible for a Servant)
Lifting Strength: Superhuman (the pressure of his swings alone rends steel)
Striking Strength: At least City Class (Superior in strength to EMIYA)
Durability: Town level (Managed to kill himself with his own spear, his Endurance ranking is comparable to Archer, who survived a wound from Saber, albeit with critical injuries), Immune to conventional weapons.
Stamina: Tireless for as long as he has prana
Range: Several meters with his spears in melee combat, Several hundred meters with throwing attacks (was confident that he could strike Caster's grimoire from across the shore)
Standard Equipment: His Noble Phantasms, Gae Buidhe and Gae Dearg
Intelligence: True to his class, Lancer is a truly exceptional spearman, easily wielding two spears of varying lengths with blinding speed and grace, taking even the King of Knights by surprise in their first encounter, putting her completely on the defensive with only a single spear while his back was turned to her. He is extremely calm in combat and a brilliant tactician, fooling Saber into thinking that he had abandoned Gae Buidhe only to kick it up and activate it, successfully landing a clear blow on one of her hands to keep her from swinging her blade properly. In addition, he is manipulative enough to try and charm Saber with his Love Spot and would have manipulated Berserker if he had been convinced that the Holy Grail War was not the honorable battleground he made it out to be.
Weaknesses: Lancer adheres strictly to the rules of chivalry and thus refuses to use dishonorable tactics and may endanger his chances of winning a fight for the greater good.
Notable Attacks/Techniques
Noble Phantasms
-Gáe Buidhe: Yellow Rose of Mortality (ゲイ・ボウ: 必滅の黄薔薇, Gei Bou: Hitsumetsu no Kibara, also translated as The Golden Rose of Mortality): A cursed spear 1.4 meters long that inflicts wounds that cannot be healed naturally or with magecraft. It was a gift given to Diarmuid Ua Duibhne by Manannán mac Lir, the king of fairies, and he normally keeps it wrapped in a talisman cloth to seal its abilities and keep it from revealing his identity.
Unlike most other Noble Phantasms, the abilities of the spear are passive in nature. It does not require its name to be called upon in order to be utilized, allowing it to instantly actualize its curse of mortality upon striking the enemy. The spear lowers the opponent's maximum health limit, thus limiting healing and regeneration abilities to the point where the opponent received the injury. When Saber receives a light wound on her left arm that severs her tendons, Irisviel is unable to heal it with magecraft due to her being considered in a state of full health. The effect cannot be dispelled, and canceling the curse requires the destruction of the spear or the death of its owner.
Tale of Tragic Love: Devotion to Grainne: A technique involving both spears that appeared in Fate/Unlimited Codes, Lancer runs his opponent through with a tossed Gae Daerg to stun them before repeatedly attacking his downed target with Gae Buidhe in a series of spinning attacks. He then finishes them by tossing Gae Buidhe as his target, engulfing them in bright light.
-Gáe Dearg: Crimson Rose of Exorcism (ゲイ・ジャルグ: 破魔の紅薔薇, Gei Jarugu: Hama no Benibara): A two meter long spear that renders magical enhancements and projections useless by severing all ties with magical energy. It was passed down to Diarmuid Ua Duibhne from his father, and he normally keeps it wrapped in a talisman cloth to seal its abilities and keep it from revealing his identity. Unlike most other Noble Phantasms, the abilities of the spear are passive in nature. It does not require its name to be called upon in order to be utilized, allowing it to instantly affect whatever it strikes.
The spear will pierce directly through any projection made of magical energy, such as Saber's summoned armor. Bounded fields, such as Invisible Air, will have small fissures created that slowly chip away at them with each strike, any weapon that is magically enhanced, such as those enhanced by Knight of Honor, will have its enhancements and ability boosts rendered useless when struck by the spear, and any item that acts as a magical energy source, such as Prelati's Spellbook, will have all connections severed to its recipients.
The nullification is not strong enough to cancel or break the source of the magecraft, making it unable to sever completed magecraft such as contracts exchanged in the past or curses in the way that Rule Breaker completely nullifies them. The effects only last while the tip of Gae Dearg is in contact with the object, which allows it to function as normal after the spear is lifted away. While it is not a weapon one can pride on its destructive power, it can be considered a threatening "anti-Noble Phantasm" and "Noble Phantasm killer" to those that find pride in the power of the armaments, forcing them to defend only by physical means.
Class Skills
-Magic Resistance (対魔力, Tai-Maryoku, localized as "Anti-Magic"): Grants protection against magical effects. Differently from the Resistance effect that merely rejects Magical Energy, this ability cancels the spells altogether. Lancer's rank of B is enough to cancel spells with a chant below three verses. Even if targeted by High-Thaumaturgy and Greater Rituals, it is difficult for him to be affected. It also offers resistance against indirect magical effects, such as Petrification and Mind Manipulation.
Personal Skills
-Eye of the Mind (True) (心眼 (真), Shingan (Shin)): A heightened capacity for observation, refined through experience. Lancer is capable of calm analysis of battle conditions even when in danger and deduce an appropriate course of action after considering all possibilities to escape from a predicament. So long there is even a 1% chance of a comeback, this ability greatly improves the chances of winning.
-The Love Spot (愛の黒子, Ai no Kuroko): A spell (curse) inherent of one's facial features which is cast as soon as the target look at the user's face. Anyone from the opposite sex who looks on Lancer's face feels extreme affection towards him. It's unconscious and Lancer cannot deactivate this. Resistance to magic can prevent the charm, however.
Others
Notable Victories:
Notable Losses:
Assassin (Fate/Stay Night) (Fate/Stay Night) Assassin's Profile
Inconclusive Matches: