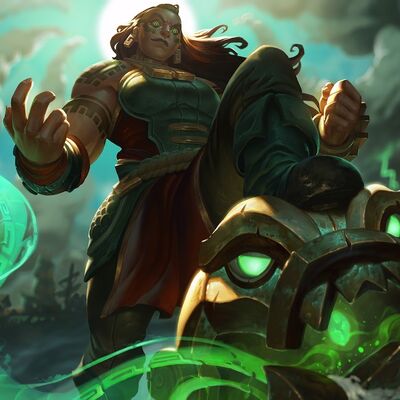 | | | |
| --- | --- | --- |
| " | I'm not big on sermons. Broken bones teach better lessons. | " |
Summary
Illaoi's powerful physique is dwarfed only by her indomitable faith. As the prophet of the Great Kraken, she uses a huge, golden idol to rip her foes' spirits from their bodies and shatter their perception of reality. All who challenge the 'Truth Bearer of Nagakabouros' soon discover Illaoi never battles alone - the god of the Serpent Isles fights by her side.
Powers and Stats
Tier: Low 7-C
Name: Illaoi, The Kraken Priestess, Truth Bearer of Nagakabouros
Origin: League of Legends
Gender: Female
Age: Unknown
Classification: Human, Priestess of Nagakabouros
Powers and Abilities: Superhuman Physical Characteristics, Regeneration (Mid-low), Can rip people's souls out of their bodies, Can summon tentacles, Self Healing, Minor Transmutation, Energy Manipulation, and Matter Manipulation
Attack Potency: Small Town level+ (Can fight on-par with Garen, and similarly powerful champions)
Speed: Hypersonic+ with Massively Hypersonic+ reactions and combat speed (Can keep up with champions like Kled and Garen as well as close range lightning/light-based attacks)
Lifting Strength: At least Class 100 (Can wield a large golden idol with one hand, Comparable to Poppy)
Striking Strength: Small Town Class+
Durability: Small Town level+
Stamina: Superhuman
Range: Standard melee range, Dozens of meters with tentacles
Standard Equipment: The Eye of God (Golden Idol)
Intelligence: High (Highly skilled in combat)
Weaknesses: Has a limited supply of mana with which to cast spells, her spells have cooldown periods, during which time they cannot be cast (Both are highly exaggerated in-game for gameplay balance purposes; for instance, Ekko is shown to be able to use his ultimate ability in rapid succession in his cinematic)
Notable Attacks/Techniques:
Basic Attack: Illaoi hits the opponent with the Eye of God. Augmented by Harsh Lesson.
Prophet of an Elder God: Illaoi draws the presence of her god, spawning a Tentacle on nearby impassable terrain if none are nearby. Every time a target is hit by Harsh Lesson, has their Spirit pulled by Test of Spirit or spawns a Tentacle as a Vessel, all Tentacles in range attack the target once dealing physical damage to all enemies in a line.
Tentacle Smash: Illaoi slams her idol into the ground, briefly summoning a Tentacle that slams down in the target direction. Illaoi's Tentacles also deal bonus damage and restore 5% of her missing health if they strike at least one champion.
Harsh Lesson: Illaoi's next basic attack gains bonus range and causes her to dash to her target, dealing bonus physical damage. Harsh Lesson resets Illaoi's autoattack timer.
Test of Spirit: Illaoi hurls a tendril forward in a line that stops at the first enemy hit. If the enemy was a champion, the tendril pulls their Spirit from them and places it before her. The Spirit is connected to the target by a tether. The Spirit has 100% of their current health and lasts for 10 seconds, reduced by 1 second each time Illaoi receives damage from the target champion. Over the duration, the Spirit can be attacked by Illaoi and her allies. A percentage of the damage dealt towards the Spirit is also dealt towards the target. The tether will be severed if the Spirit is killed or when the target moves too far away, slowing the target enemy by 80% that decays over 2 seconds, and marking them as a Vessel, causing them to spawn a Tentacle every 10 seconds for the next 60 seconds. If the Vessel kills 3 Tentacles, they are freed from their curse.
Leap of Faith: Illaoi leaps into the air before slamming her idol into the ground, dealing physical damage to all nearby enemies. For the next 8 seconds, Illaoi summons a Tentacle for the duration for each enemy champion or Spirit hit, and all Tentacles become untargetable and swing 50% faster. Additionally, Harsh Lesson's cooldown is reduced to 2 seconds for the duration.
Items
Health Potion: Regenerates health every half-second for 15 seconds. Limited to 5 at one time.
Doran's Blade: Grants bonus health, attack damage, and life steal.
Mercury's Treads: Grants bonus movement speed and magic resistance, and reduces the duration of all crowd control effects by 30%, except for Suppression, Stasis and Airborne effects such as Knockbacks, Knockups and Pulls.
Cinderhulk Stalker's Blade: Grants bonus health, lifesteal, and mana regeneration, and deals magic damage every second to nearby enemies. Basic attacks versus monsters deal 20 bonus damage and damaging a monster through any means applies Health Drain, which deals 30 magic damage over 5 seconds while restoring as much as health.

Chilling Smite: Upgrades Smite to Chilling Smite. Chilling Smite can be cast on enemies, dealing true damage and stealing 20% of their movement speed for 2 seconds.
The Black Cleaver: Grants bonus health, attack damage, and cooldown reduction. Dealing physical damage to an enemy champion Cleaves them, reducing their armor by 5% for 6 seconds, stacking up to 6 times for a maximum of 30%. Dealing physical damage also grants bonus movement speed for 2 seconds.
Sterak's Gage: Grants bonus health and attack damage, and grants increased size, bonus attack damage for 8 seconds, and a rapidly decaying shield for 3 seconds upon taking a large amount of damage.
Warding Totem: Consume a charge to place an invisible Stealth Ward which reveals the surrounding area for 120 seconds. Stores one charge every 90 seconds, up to 2 maximum charges. Limited to 3 Stealth Wards active at a time.
Others
Notable Victories:
Notable Losses:
Inconclusive Matches: