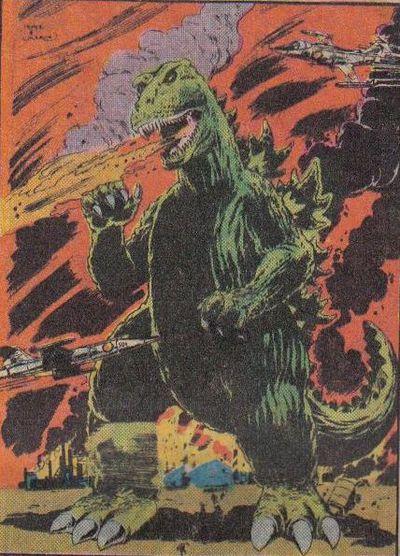 Summary
Godzilla is a kaiju who was mutated and awakened by a hydrogen bomb test in 1956, however he became trapped in ice near the coast of Alaska and only reawakened during the modern age. Godzilla later went on a series of adventures, encountering various heroes and villains of the Marvel Earth-616 Universe.
Powers and Stats
Tier: Unknown
Name: Godzilla
Origin: Godzilla/Marvel Comics (Godzilla #1, Aug. 1977)
Gender: Male
Powers and Abilities: Superhuman Strength, Superhuman Speed, Invulnerability, Regeneration, Fire Breath.
Attack Potency: Unknown (Was even in a contest of strength with Hercules, but nothing indicated that Hercules' later established full power was in effect during this story).
Speed: Unknown
Lifting Strength: Unknown
Striking Strength: Unknown
Durability: Unknown
Range: Several dozen meters with ranged attacks.
Stamina: Very high (Battles with other kaiju on a regular basis and also once fought both the Avengers and Fantastic Four together)
Intelligence: Average for a kaiju
Weaknesses: None known.
Strength:
Durability:
Reaction Speed:
Note: Before making any changes to this page, please read and follow the Power-scaling Rules for Marvel and DC Comics.
Other
Notable Wins:
Notable Losses:
Inconclusive Battles: