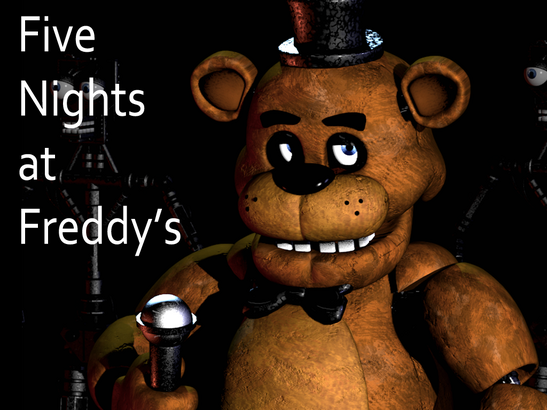 Summary
Five Night's At Freddy's is a series of indie point-and-click survival horror video games developed by Scott Cawthon. The game centers on the fictional pizza restaurant Freddy Fazbear's Pizza, where the player must act as a night security guard, defending themselves from the malfunctioning animatronic animal characters by tracking their movement through the facility using security cameras.
Power of the verse
Due to the ambiguous and mysterious nature of Five Night's at Freddy's narrative, indexing their powers can be rather difficult. So far they have been implied to all have strength at the very least on the level of a peak human, with the top tier being Springtrap,who could casually rip apart other animatronics, making him Wall level.  
They are known for their stealth, capable of kiling a man with the company unable to find the bodies. In matter of strength one of the animatronics accidentally bit off a child's frontal lobe.
They are really hard to neutralize or destroy due their sheer durability and due being possessed, most animatronics in the second game were in a state of disrepair and they still worked properly. For example Bonnie in the second game lost his face and an arm and he was still able to kill, and in matter of hax, certain characters possess blatantly supernatural qualities such as being incorporeal and teleportation.
Supporters and Opponents of the Series
Supporters:
Zacmariozero
batman129
Glitch Trainer MangleMan25
HeadlessKramerGeoff777
Starter Pack
Christian Higdon
EMagolorSoul
Neutral:
FanofRPGs
Overlord-Murasama
ThePerpetual
Elvis Adika
Sigma The Terminator of Purple Monsters
Dreaming Serpent
DanFlsamual21
Opponents:
GTgokussj4
LordAizenSama
Desghidorah19
Ogurtsow
Ryukama
ExoSaiyan9000
SoyHop
TheLuffyPlayer
Elione-chan
Yomi Schwarz
Byakuya "Senbonzakura" Kuchiki
Penguinkingpin
Shadowbokunohero
ZacharyGrossman273
VersusJunkie54
Characters
Nightmare Foxy
Circus Baby
Bidybabs
Ballora
Minireenas
Funtime Freddy
Funtime Foxy
BonBon
Bonnet
Yenndo
Funtime Lolbit
Twisted Bonnie
Twisted Wolf
Twisted Foxy