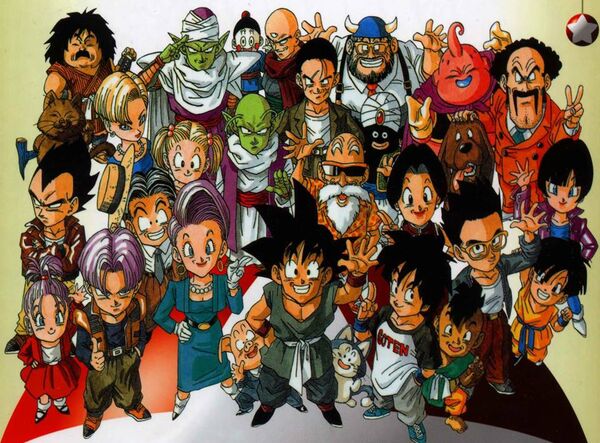 Summary of the plot
The series again continues the adventures of Son Goku, who is turned back into a child by Emperor Pilaf accidentally wishing this using the Black Star Dragon Balls in the beginning of the series and is forced to travel across the galaxy to retrieve them. The series follows the Z Fighters against far more powerful foes such as the Luud Cult, the Machine Mutants, Baby, Super 17, and the Shadow Dragons.
Power of this verse
This verse is pretty powerful, it has Multi-Solar System level characters, with the top tiers even reaching higher ends. The heroes in GT are far more powerful than their Dragon Ball Z counterparts, because low-tier GT characters like Pan can easily beat a mid-high tier character like Dr Gero. This is, in part, due to Dragon Ball GT following the Animeverse, in which the top-tier Z fighters are most definitely MFTL+ in short bursts of reaction-time/combat speed (Gauging from Piccolo busting the moon to Broly travelling through space) and can at the very least Star-bust (Going by both Super Perfect Cell's statement of destroying the Solar System backed by secondary canon sources) and, most importantly, by Kid Buu's feat of gradually destroying a Galaxy in a similar way to what Broly did.
Note: The statistics of Dragon Ball GT characters are based on the original Dragon Ball Z Anime feats.
Also, Dragon Ball Super has retconned the previous universe model of 4 galaxies, but this does not apply to the GTverse because of separate continuities.
Supporters and Opponents of the Series
Supporters:
SomebodyStupid
DBZMLP12345
Gtgokussj4
X-men33
Superman1999
RichardLegacy
HybridSaiyan
NovaReaper
GohanLSSJ2
Quincy King
Pikatoo
Fire24672
TISSG7Regrave
Pocket-Chu
RevolverDragon
Wjsgamer
Neutral:
DeezNuts1102
soul01
The Living Tribunal 1
Xali990
TheLuffyPlayer
Opponents:
Valar Melkor 2
Faisal Shourov
KoichiSamakibara
Characters
Z-Fighters
Aliens

Machine Mutants
Androids

Dragons
Fusions
Transformations
Notes
Gallery