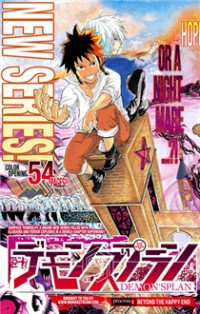 Summary
What is it that you desire? Money? Love? Walk again? Be stronger?
Whatever it is you wish for, you can get by asking the legendary and awe-inspiring DEMON'S PLAN; a sacred object capable of granting anything to "the chosen ones".
Our two protagonists are waiting for their turn, which is not "free". Thus, this story begins...
Power of the Verse
Currently at subsonic speed and the latest character showed building/large building level AP. It has the potential to introduce a lot more hax. Regeneration of lost limbs in mere seconds also exists. Type 1 Immortality is a passive effect of every character that has superpowers in this verse.
Supporters and Opponents of the Series
Supporters:
GreatestSin
Opponents:
Neutral:
Characters
Boro
Carlos
Salvia
"The Collectionist"
Patron