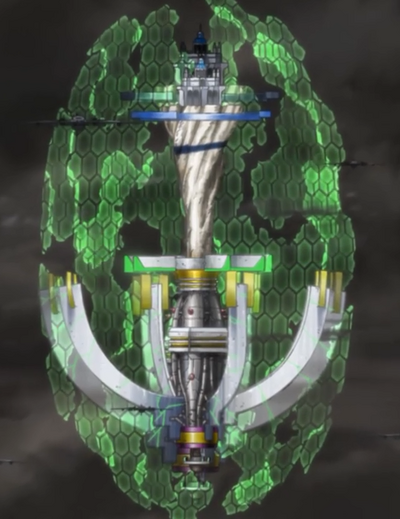 Summary
The Sky Fortress Damocles (天空要塞ダモクレス Tenkū Yōsai Damokuresu) is a floating fortress developed by the Toromo Agency at Cambodia. It serves as the main base for Schneizel's splinter faction. Based on its schematics, it is powered by a series of solar cell generation systems, similar to those used in Tokyo's concession areas. Spanning three kilometres on its longest axis, it is armed with several F.L.E.I.J.A. warheads, however it requires approximately ten minutes to reload after firing just one. It is also rendered nigh indestructible due to the Blaze Luminous shield that encompasses the entire fortress. Its only weakness lies in the fact that the Blaze Luminous has to be opened near the F.L.E.I.J.A launch tube in order to fire a F.L.E.I.J.A.
Powers and Stats
Tier: 7-B to 6-C by range of destruction
Name: Damocles
Origin: Code Geass
Age: Less than 1 year
Classification: Sky Fortress
Wielders: Lelouch vi Britannia, Schneizel el Britannia
Powers and Abilities: Energy shields, Flight, causing great explosions through F.L.E.I.J.A, that completely destroy matter, ignoring durability
Attack Potency: City level to Island level (The F.L.E.I.J.A can destroy matter within 10 to 100 kilometers explosion radius, but isn't really quantifiable in terms of energy. Assuming vaporization would result in Country to Continent level, but is technically inaccurate; ignores conventional durability to an extent, because it destroys the matter completely without leaving any remains)
Speed: Unknown
Durability: At least Multi-City Block level, likely higher (Via sheer size, it is over 3000 meters tall). Unknown with Blaze Luminous shielding
Range: Hundreds of kilometers
Weaknesses: Requires ten minutes to reload, needs to be operated by several people at once, Shields have to be opened slightly to fire F.L.E.I.J.A
Notable Attacks/Techniques:
Field Limitary Effective Implosion Armament-FLEIJA: An unknown type of bomb that uses Sakuradite to obliterate all matter within a spherical area. The effect range is from 10 kilometres to 100 kilometres leaving a perfect sphere within the ground.