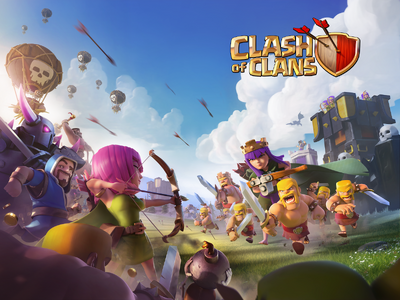 Summary
Clash of Clans is a free MMO strategy game (for iOS and android platforms) developed and published by Supercell. The entire game is about players creating their own base, join or create a clan, train troops, and attack other bases.
Wiki: http://clashofclans.wikia.com/wiki/Clash_of_Clans_Wiki
Power of the verse
Although this verse isn't quite strong (Small Building/Building level), it has some hax in it.
Profiles
Tier 1
Tier 2
-Giant
-Wall Breaker
-Balloon
-Baby Dragon
Tier 3
-Healer
-Dragon
-Miner
Dark Elixir Troops
-Minion
-Hog Rider
-Valkyrie
-Golem
-Witch
-Lava Hound
-Bowler
Builder Base Troops
- Raged Barbarian
-Sneaky Archer
-Boxer Giant
-Beta Minion
-Bomber
-Builder Base
-Baby Dragon
-Cannon Cart
-Night Witch
-Drop Ship
-Super P.E.K.K.A
Heroes
-Archer Queen
-Grand Warden
-Battle Machine
Spells
-Lightning Spell
-Healing Spell
-Rage Spell
-Freeze Spell
-Jump Spell
-Clone Spell
Dark Spells
-Poison Spell
-Earthquake Spell
-Haste Spell
-Skeleton Spell
Unaffiliated