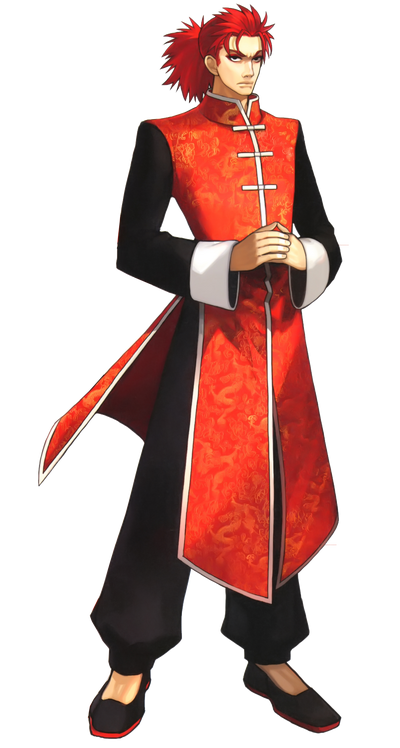 Summary
Assassin (アサシン, Asashin) is the Assassin-class Servant of Julius B. Harway in the Moon Cell Holy Grail War of Fate/Extra.
Assassin's True Name is Li Shuwen (李書文, Ri Shobun), a Chinese martial artist from Yanshan County, Hebei - Cangzhou (1864~1934). A prominent martial artist in the history of Chinese martial arts, renowned as "a second strike is needless, so long there is one it will suffice". Otherwise he is known as Demon Fist Master (魔拳士, Ma Ken Shi) of the Bājíquán.
The progenitor of the Li clan's branch of Bājí, Li Shuwen excelled in the use of spear to the point of being nicknamed "Divine Spear Li" (神槍李, Kamisō Ri). The "Six Harmony Great Spear" that he used was a basic weapon of the Bājí-branch and, if one is to accept this extreme logic, it can be said that the unarmed techniques of the Bājí-branch (the Bājíquán) are nothing but preliminary steps to learn the techniques of this great spear.
Powers and Stats
Tier: At least 7-B | At least 7-B, higher with Fierce Tiger Forcibly Climbs a Mountain
Name: Li Shuwen, Divine Spear Li, Demon Fist Master, Assassin
Origin: Fate/Extra
Gender: Male
Age: 20-30 years old
Classification: Servant, Heroic Spirit, Grand Master of Bajiquan
Powers and Abilities: Superhuman Physical Characteristics, Master Hand-to-Hand Combatant, Durability Negation (No Second Strike), Chi Manipulation, Invisibility (Sphere Boundary), Enhanced Awareness of Surroundings (Sphere Boundary), Resistance to Existence Erasure, Soul Manipulation (all Servants can consume souls to replenish their magical energy)
Attack Potency: At least City level with physical strikes via power-scaling (Is stated to be able to take on even Saber-class Servants with his fists alone), No Second Strike ignores conventional durability | At least City level (As a Berserker, Mad Enhancement should have raised his strength further), higher with Fierce Tiger Forcibly Climbs a Mountain ignores conventional durability
Speed: Hypersonic+ with High Hypersonic reactions (Could probably boost it with Martial Arts)
Lifting Strength: Superhuman (Even the weakest Servant is stronger than the strongest human)
Striking Strength: At least City Class via power-scaling (Can trade blows with Nero and Archer)
Durability: City level via power-scaling (C rank endurance, equal to Saber under Shirou's Mastery), likely higher (Can parry blows from Nero with his bare hands)
Stamina: High (Can fight without losing efficiency even being partialy erased)
Range: Extended melee range
Standard Equipment: Nothing notable
Intelligence: A legendary practitioner of Bajiquan who is considered a "master among masters", who despite the characteristic weakness of his class is able to match the Knight-classes in single combat with his bare fists. He is also renowned for his prowess with a lance, with his skills in hand-to-hand combat being a mere precursor to his spearmanship. He is also skilled in the application of Qi (magical energy), allowing him to deal devastating blows and stop the opponent's heart with a glancing blow to the chest.
Weaknesses: His Sphere Boundary can be disabled by Taoist Master who is knowledgeable in Tiānxiān and can channel both Heaven and Earth, he is somewhat prideful and energetic in combat, and enjoys the thrill of being able to fight his opponents without ending them in a single blow
Notable Attacks/Techniques:
Noble Phantasm
No Second Strike (无二打, Mu Ni Da): is Li Shuwen's title of "For Li Shuwen, a second strike is needless" (李書文に二の打ち要らず, Ri Shobun ni Ni no Uchi Irazu) given shape. It is not a true Noble Phantasm, but rather the quintessence of his martial arts where all of his hard strikes, even those meant as a diversionary strike or a feint, are enough to snatch away the opponent's life. He was an expert martial artist with strength that surpassed that of others, but the principal of "engulfing the opponent with Qi (気,  localized as "Chi")" being put into practice was thought to be more important than physical strength. One theory states that he did not just defeat opponents with the destructive power of his fists. Those annihilated by his techniques did not die from the destruction of their internal organs, but rather from what in the present would be called circulatory shock.

It has been speculated whether or not Li Shuwen "engulfed his opponent with Qi" by utilizing the practice of molding the space filled with his own Qi in order to construct his own territory. Those who have been "engulfed with Qi" would have some of their senses dazzled, entering into a state of tension, and in the case a direct impact is driven into the nervous system of an opponent in this state, his heart will stop due to a reaction in the pneumogastric nerve.
God Spear, No Second Strike (しんそうにのうちいらず: 神槍无二打, Shin-sō ni no Uchi Irazu: Kami Yari Mu Ni Da): is the spear technique of Li Shuwen. It has the same effects as the Assassin-class "No Second Strike", but the range was broadened by holding a spear. One can guess that the precision of movements is also no different from when unarmed.
Fierce Tiger Forcibly Climbs a Mountain (猛虎硬爬山, Mōko Kō Hazan, localized as "Stalking Tiger"): is one of the secret techniques of Li Shuwen, a pinnacle representation of Bajiquan and the deadly form he had relied on throughout his life. It is a technique often attributed to him, differing from the Anti-Unit No Second Strike that is meant to stop the target's heart in that it is specialized for physical damage. It is an Anti-Gate Noble Phantasm that is a series of consecutive attacks and obtained its name because it frequently utilizes motions where the first attack looks like a tiger clawing at a mountain. Each single attack is "energy from the earth outputted through the martial artist called Li Shuwen" to easily smash walls, doors, and even the sturdy gates of dojos, let alone the damage it could cause to a single person. He only utilizes it after becoming Berserker due to having stopped reading the pulse and mind of his opponent from losing his sanity.
Class Skills
Presence Concealment (気配遮断, Kehai Shadan, localized as "Obfuscation"): is the capacity to hide one's presence as a Servant. It is a common skill to the Assassin class. While a common skill of all Servants of the Assassin Class, the level to which he is able to almost completely obscure his presence goes far above the limits normally associated with this ability. See Sphere Boundary
Personal Skills
Sphere Boundary (圏境, Kenkyō, localized as "Concealment"): is a meditatively-based technique by which, through utilization of Qi (one of the culturally-specific names of Od), one may perceive the exact conditions of the immediate environment, and make use of the resulting perception so as to adjust and minimize the noticeability and impact of one's existence.

For those who have reached the pinnacle of this skill, it is possible to synchronize with the world to such an extent that the human figure is rendered naturally indiscernible; it could be said that this state of oneness is the purpose for the pursuit of the Sphere Boundary to begin with. Vitrification functions on a similar basis.
Incidentally, this personal skill is attained purely through the mastery of the martial arts, and is therefore unrecognizable to those trained solely under the system of Magecraft—being lacking in the telltale large-volume Magical Energy utilization that manifests in the use of Magecraft-based invisibility. As with the Tsubame Gaeshi attained by the Assassin of the 5th Heaven's Feel of Fuyuki, the Presence Elimination effectuated by the Sphere Boundary exceeds the domain of human capability.
Chinese Martial Arts (中国武術, Chūgoku Bujutsu, localized as "Liuhu Quan"): is a Chinese rationality. A value that measures one's mastery of the martial arts that made becoming one with the universe as its objective. Its difficulty to learn is of the highest level and, unlike other Skills, it is at A Rank that one is at a level where he is said to have finally "learned it". Due to Li Shuwen A+++ Rank; at this point, one is a master among masters. Li Shuwen as Lancer has mastered the spearmanship.
Key: Normal Strikes | Fierce Tiger Forcibly Climbs a Mountain
Note: He can be summoned as Assassin, Berserker and Lancer (the best class where he can demonstrate his talent). It was stated that he is an Assassin who can fight Saber-class enemies head on (with bare fists).
Others
Notable Victories:
Notable Losses:
Inconclusive Matches: