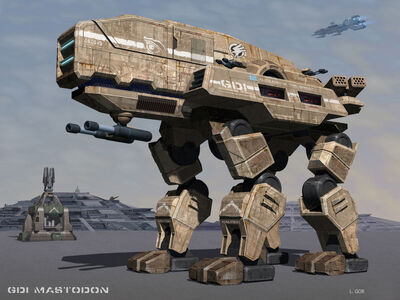 Summary
AW-12 Mastodon is an GDI quadrupedal assault walker used during the Ascension Conflict.
Powers and Stats
Tier: 8-B
Name: AW-12 Mastodon
Origin: Command & Conquer
Age: Unknown
Classification: Walker vehicle
Wielders: Unknown
Powers and Abilities: Superhuman Physical Characteristics
Attack Potency: City Block level (Many times more powerful than attacks capable of destroying buildings)
Speed: Superhuman (As fast as vehicles)
Durability: Multi-City Block level (Can take a few hits from another Mastodon)
Range: About 60 feet
Standard Equipment:
Tusk Artillery Battery: The vehicle's primary attack is firing the two large cannons on its front.
Dual Missile Launchers: Launches missiles at either air-borne or ground targets.
Depth Charge Emergency Ejection System: Drops explosive charges from the walker's flanks to fend off foes to close to hit with its cannons. This is an optional upgrade for the Mastodon also called Dispersion Bays.
Backup Systems: An optional upgrade that uses reverse-engineered Nod nano-tech technology to gradually repair the Mastodon if it sustains critical damage eventually allowing it to recover.
Weaknesses: Vulnerable to EMP effects.
Others
Notable Victories:
Notable Losses:
Inconclusive Matches: